United Nations Administration
for the Martian Moons

    

Flags
UNAMM (top)
Phobos (left), Deimos (right)

Motto: "Dread and Fear to Hope and Progress"

Information

Parent:
United Nations
Headquarters:
Stickney, Phobos
Government:
United Nations Administration
UN Secretary-General
Stephan Nadelmann (2100)
MMAA Speaker
Alibi Orazev (2106)
President of Phobos
Vinod Gaur (2108)
President of Deimos
Dominic Fern (2108)
Established:
May 19, 2089
(29 years ago)
Population:
34,978 (2110) (permanent)
Change
+25,015 (2080)
Currency:
None official, multiple used
Official Languages:
Arabic, Chinese, English
French, Hindi, Russian,
Spanish
Religion:

13.3% Hinduism
5.6% Islam
4.2% Christianity
12.1% Other
64.8% Irreligious
The United Nations Administration for the Martian Moons, often shortened to UNAMM or just Phobos and Deimos, is a United Nations Administrative Zone covering the two moons of Mars. The UNAMM has two planetary regions, the Republic of Phobos and the Republic of Deimos, which are not technically sovereign nations but act as constituent countries under the Administration. The UNAMM is headquartered in the district of Stickney, on Phobos. With a combined population of 34,978 permanent residents, the UNAMM is technically the fourth-most populous United Nations Administrative Zone, behind the Administration of the Galapagos and ahead of the Administration of Antarctica.
History
Manned Exploration & Early Settlement
The Eris Program, itself a part of the larger Ares Program, sent six missions to Mars' moon (three to each) between 2026 and 2036. Eris 1 (part of the Ares 4 mission) touched down at Stickney Crater on Phobos in August 2028, and Eris 2 (part of Ares 5) landed at Hall Regio on Deimos in October 2030. Continued Eris missions would be parts of Ares 6, 7, 8, and 9, with each mission alternating the target moon. Ares 10 would not send astronauts to either moon. However, in 2042 the United Nations Space Administration, in cooperation with primarily the American NASA, Asian P3A, and Oceanic OSDC, would establish Laputa Base and Hall Base on Phobos and Deimos, respectively.
While initially purely scientific bases only holding two or three dozen astronauts at a time, both bases would come to be popular waypoints for ships coming to and from Mars and it's various surface bases. Both would also gradually become resource-extraction bases, with Phobian metal and Demian ice being pivotal resources for both the development of their respective bases and the development of those on Mars.
Martian Terraforming & Mass-Colonization
With the signing of the Ares Concordat in 2050, the importance of Phobos and Deimos only increased. Over the 2050s, the population and development of the moons would skyrocket. Between 2050 and 2060, the population on Phobos and Deimos would nearly double and would continue to grow.
While the Fossil Crisis would devastate Martian colonization efforts and the planet's rudimentary economy, Phobos and Deimos would only benefit from the event. Even as colonization and terraforming efforts were halted on Mars, colonization was allowed to continue on the moons. Population & development would continue to explode over the 2060s, growing to almost ten thousand by the end of the 2070s. Phobos would come to be home to a large resource-extraction industry, mining ice and metals for either their own development or for shipment to Mars or Earth. Deimos would become the gateway to Mars, where most ships entering to exiting the system would stop for refueling and to exchange supplies & resources. At the end of the 2070s, the moons would have a combined population of over ten thousand, with over a thousand arriving every year.
Self-Administration
By the beginning of the 2080s, Phobos and Deimos had been effectively functioning as their own city-states. Both had been running under the sort of rudimentary direct democracy since their formation, electing an informal President and Executive Council to run the moon, as well as drafting up basic constitutions. In September 2084, representatives from the Phobian and Demian governments met to discuss formal independence. While both moons were technically still only colonies of the UNSA, both had been marginally independent since the early 2070s. The conference resulted in the "Association of Martian Moons" being formed between the two polities, which then joining called for a meeting with United Nations representatives.
The UN-Martian Moons conference, held mostly digitally with little physical representation by the UN, would be held in May 2086. Negotiations would take nearly eight months, however would result in sweeping change. After a short period spent setting up a full-fledged government, both Phobos and Deimos would become nominally independent, and the Association of the Martian Moons would be turned into a United Nations Administrative Zone, which would control the moon's foreign policy and diplomatic affairs.
Beginning February 2087, the Phobian and Demian governments would undergo a period of massive political change. The national governments would be legitimized, with the office of President and the Executive Councils being reformed into actual institutions with real power. The Association of the Martian Moons would gain a representative legislature, with each seat elected by the population. A formal constitution would also be drafted for each moon. Finally, on May 19, 2089, following the ratification of both moon's constitutions and the Martian Moons Charter, the Republic of Phobos and Republic of Deimos would both be formally established under the new United Nations Administration for the Martian Moons.
Economic development would only continue following the establishment of the UNAMM. The population would almost triple between 2080 and 2110, and economic output would surpass $250 billion and continue to grow. The UNAMM maintains close economic and diplomatic relationships with the extraplanetary holdings on Mars, serving as vital economic partners. Beginning in 2096, an extensive project to hollow out both moons and paraterraform the interiors to provide for more living space has been underway and is expected to finish by 2120, opening up a total of nearly seven thousand cubic kilometers for living space.
Demographics
Population
The Martian Moons Statistical Office places the population of UNAMM at 34,978 permanent inhabitants in 2110. Of this, 26 thousand live on Phobos, and 9 thousand live on Deimos. Approximately 32.6% of the total population lives within one of the two capital districts (Laputa on Phobos, Hall on Deimos), with the remaining 67.4% living in the remaining eight districts (four on each moon).
Language
Being a United Nations Administrative Zone, the UNAMM has seven official languages: Arabic, Chinese, English, French, Hindi, Russian, and Spanish. Of these, English is the primary language of approximately 52.8% of the population, followed by Arabic (14.1%) and Chinese (11.2%).
On top of these, a variety of pidgins and creoles have arisen since mass-colonization in the 2070s. Most of these are derived from similar pidgins from Luna or Mars, but others (mostly notably Phobian Engblic and Deimian Frango) have begun to gain popularity.
Religion
Under the United Nations Universal Declaration of Human Rights, UNAMM residents and citizens are entitled to freedom of religion. The largest religions in the UNAMM are Hinduism (13.3%), Islam (5.6%), and Christianity (4.2%). 12.1% of the population follows smaller religions and 64.8% of the population is irreligious.
Cybernetics
Given the relatively hostile environment of Phobos and Deimos, cybernetic modification is used in much of the population. As of 2110, 81.6% of UNAMM residents and citizens are cybernetically modified, equating to about 20 thousand individuals. Of this, 71.2% have 1-5 modifications, 21.5% have 6-10 modifications, and 7.3% have more than 10 cybernetic modifications.
Nonpermanent Residents
While the permanent population of the UNAMM is 34,978, the Administration is home to approximately 11,000 nonpermanent residents. Most of these are workers overseeing construction projects on the moons or stopping on a longer voyage down to Mars or Earth. According to an MMSO survey, these residents stay for an average of 8 months, usually waiting for transfer windows to another body.
Government
Structure
The United Nations Administration for the Martian Moons is commonly separated into three parts. At the head is the Martian Moons Administrative Assembly. The Assembly is composed of 35 elected officials, each being directly elected and representing approximately 1,000 permanent inhabitants. The Assembly primarily holds jurisdiction over the foreign policy & diplomatic affairs of the moons, as well as economic issues like inter-moon commerce and trade with Mars & Earth.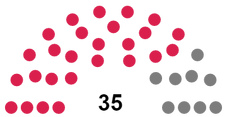 Below the MMAA are the governments of the Republic of Phobos and the Republic of Deimos. In both systems, a directly-elected President and Executive Council serve non-renewable terms of four years. The President (serving more as a head-of-state than a head-of-government) and the Council draft laws and policy which are then directly voted on by the population. The courts of each nation are comprised of judges who are nominated by the President and Executive Council and the confirmed via a vote by the population.
Political Autonomy
While the UNAMM controls the foreign and diplomatic affairs of the Republic of Phobos and Republic of Deimos, the moons are mostly left to their own devices for internal affairs. Internal economic, social, and political affairs are left to the jurisdictions of each Republic, with the UNAMM taking a strictly advisory position.
Administrative Subdivisions
Both Phobos and Deimos are divided into six administrative districts. Each district is lead by District Minister who is directly elected by the citizens of each district for four-year nonrenewable terms. District Ministers serve largely ceremonial roles with limited administrative functions; primarily acting as spokespeople, advocates, and organizers for their district.
List of Districts
United Nations Administration for the Martian Moons
Republic of Phobos
Republic of Deimos

District

Abbr.

Population

District
Abbr.
Population
Drunlo
DR
3,927
Hall
HA
2,925
Grildrig
GR
3,476
Krujlac
KR
911
Lagado
LG
3,843
Madan
MA
1,141
Laputa
LP
8,478
Swift
SW
1,498
Stickney
ST
6,329
Voltaire
VO
2,450
Community content is available under
CC-BY-SA
unless otherwise noted.